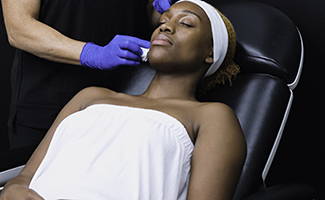 Skin Therapeutic: Results that Get Noticed
Chemical Peels and Skincare Exclusively for Licensed Professionals
There are a lot of people giving skincare advice right now, but how many are qualified? Not many. But they get a lot of attention.
Like you, we believe, licensed professionals are the voices that should be heard.
Skin Therapeutic products and training are designed to help skincare professionals be the experts trusted most by clients and peers.
Available exclusively to licensed profesisionals for over 20 years.
Already have a Professional Account?

Need a Professional Account?

Are you a licensed professional? Order Skin Therapeutics peels and skincare from Delasco. Suggested retail pricing shown. Login to your Professional Account to view wholesale pricing.

Are you a client? Purchase Skin Therapeutic skincare from your authorized Skin Therapeutic professional. Contact us to find one near you.
Get certified in Skin Therapeutic Chemical Peels and deliver results that get talked about.
Find Skin Care and Chemical Peel products to treat skin concerns.