Posted by Kara Torpy, Delasco on June 3, 2020, 3:24 pm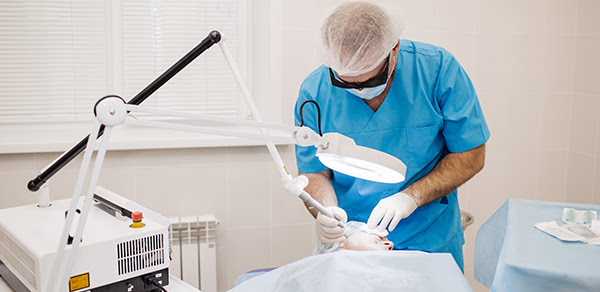 By now we are all familiar with lasers being used to zap everything, including sun damage, skin cancers, acne scars and tattoos.
According to the ASDS Survey on Dermatologic Procedures, laser treatments are up 74% from 2012 and fast forward to today, Coronavirus has heightened every medical practitioners' awareness on how they should be protecting the patient, themselves and the staff around them.
With such a vast growing procedure it is important to look at protection in this realm particularly. Laser protection has always been required to protect one's eyes from harmful radiation, but now add in Coronavirus and the fact that it can spread through the eyes, just as it does through the mouth or nose and leading dermatologists are looking at safer alternatives for protection.
While intraocular eye shields presented no harm previously and there is no current data to suggest that it does now, medical practitioners are not willing to take the risk, as they come in direct contact with the eye; instead, they are looking to disposable options that are a one-time per patient use to be discarded after treatment.
Leading dermatologist Kavita Mariwalla with Mariwalla Dermatology in West Islip, NY weighed in, "As patients return to our offices for laser treatment they are looking for signals that you are being thoughtful about their safety. They look for the details in your office environment and using these disposable shields is just one more step in responsible patient management during the pandemic. They take one potential source of contamination out of the equation."
Other reasons? As more and more practices around the globe call every day and make the switch to disposable laser eye shields, medical practitioners have also shared the reasons listed below.
Safety first. Practitioners want to be as safe as possible, when dealing with contact points on the face, even though when sterilized properly reusable intraocular eye shields are safe, they just want to go the extra mile with protection.
Additional protocol of all the sterilization procedures they must adhere to in order to keep their facilities safe, practitioners are going with disposable anywhere possible to maximize time and efficiency in their offices.
Supply shortage of sterilization items. As demand for sterilization products run high and patient volumes increase, they are saving sterilization items such as disinfectants and pouches for items they can not either get in a disposable form or like surgical instruments where they lack the quality of a German grade stainless steel instrument.
In the end the goal is to keep everyone as safe as possible. We are looking at the one data trend we have, which is the high volume of sales on these products in particular since COVID-19 began and relying on the feedback we are getting from our customers but would love to know more! What are you doing in your office or what are you hearing in the marketplace? Email karat@delasco.com.
Interested in disposable eye shields?
delasco.com/laser-aid-disposable-laser-eye-shields/