November 25, 2018, 3:24 pm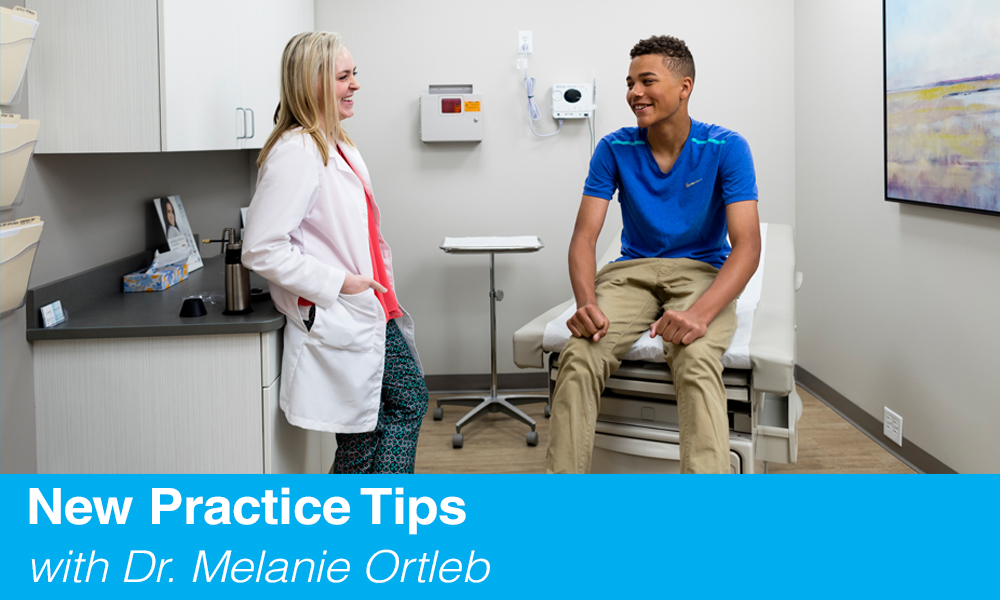 You are starting your own practice. Congratulations! Did you know starting your own practice can take up to 20 weeks? On average, most new practices take 4-9 months to set up a new practice and with that comes many uncontrollable unknowns.
We sat down with new practice owner, Dr. Melanie Ortleb of MOD Dermatology in Omaha, Nebraska in discussing the dos and don'ts of opening your own practice. She talks about her journey from big practice to her own start-up.
How do you keep your practice running efficient? Are there certain programs and/or guidelines you enforce to spend quality time with your patients and still maximize your availability throughout the day?
Tell us about your journey to become a dermatologist.
As cliche as it sounds, I truly feel dermatology was a calling for me. I grew up in a medically oriented family (my father is a dentist and my mother is a nurse) and can remember wanting to be a doctor from a young age.
In medical school I was exposed to many different fields, but from the beginning the dermatology textbooks fascinated me. Because Nebraska doesn't have a dermatology residency I applied far and wide and was ecstatic when I matched into dermatology at Vanderbilt University in Nashville, Tennessee. It was an excellent program and I look back on those years fondly. Nebraska is home so I was happy to move back and serve the people of Omaha.
What made you want to take the leap to start your own practice?
Starting my own practice wasn't something I had planned on doing. I came to the proverbial fork in the road and decided to take the road less traveled.
Starting my own practice from scratch meant that I could literally do every single thing how I imagined practicing medicine and dermatology would be. It has been very liberating and while it was an immense undertaking, I am so happy with the decision that I made.
What has been the biggest challenge starting your own practice?
Learning how to manage my time wisely has been the biggest challenge. When opening and running a new practice there is always more that can be accomplished. I am married and have 3 young children so I wear many hats. While dermatology is my passion, family comes first, so I have to be smart with my time at the office.
What resources did you use when you started the new practice process?
There are so many different resources to help guide you in the process. I used a combination of online resources, attended the yearly Academy meeting to have access to multiple vendors in one location, and have worked closely with several colleagues who have recently been through the process.
In particular, I belong to several online groups of dermatologists. It's basically like having thousands of colleagues at your fingertips. I have learned so much from these groups and I honestly think starting your own practice is a much less daunting task with all of the support available these days.
What mistakes did you make throughout the process?
This goes back to time management. It is quite the herculean feat to get an office open- coordinating timelines between contractors, vendors, and others can be difficult.
Our office was opened in 77 days from when we started the process. I probably could have had it opened 10 days earlier if I had ordered my cabinets sooner! Lesson learned.
How important was the location of your office?
Location is so important! I knew I wanted to be in west Omaha, an area of town that is rapidly growing. I chose a location that is visible, easy to access, and has ample parking. These were important to me and have proven to be helpful thus far.
With a new practice, how do you stay connected with what's going on in the industry and trends?
There are so many ways to stay connected and in touch with the most current medical knowledge. I use a combination of medical journals, conferences and online networking groups to continue to learn and grow as a dermatologist.
When it came to ordering supplies, how did you find the products and supplies right for you?
Grady at Delasco was one of the first vendors that I worked with. He had some great brochures of everything Delasco had to offer. He also brought me a lot of the actual items so I could see them in person and compare to make sure I had everything that I preferred.
From various sutures, to types of gloves, to chemical peeling agents, he presented several options. He also went out of his way to look into a few other items they didn't carry to see what it would cost to bring it in house so I didn't have to order from so many companies. His prices were competitive and I liked the idea of not having to keep track of what I needed to order from where. It was a smooth process.
Are there ways you go the extra mile for your patients?
Most definitely. An extra mile could be just a smile. It can also be posing with a family member as they take a photo with you during their visit. Most importantly, it is to be genuine and that it is a big deal. Patients can tell when you are genuine.
What advice do you have for anyone thinking of opening their own practice?
Surround yourself with people that will support you and lift you up. Cultivate an environment that you want to be in everyday. If you love what you do it won't ever feel like work. Opening your own practice takes a lot of help and a leap of faith. Go with your gut, it rarely leads you down the wrong path.
Dr. Melanie Ortleb, MD is a dermatologist (skin specialist) in Omaha, Nebraska. She received her medical degree from the University of Nebraska College of Medicine in 2011 and completed her dermatology residency at Vanderbilt University in Nashville, Tennessee. Upon completion of residency she returned to her home state where she is in private practice and the owner of MOD Dermatology.