Posted by Kristen Woodson, Delasco on April 29, 2022, 10:54 am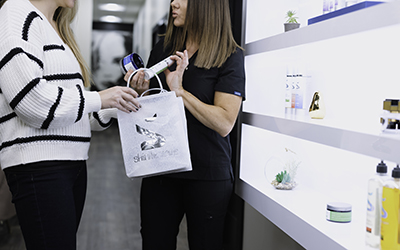 Selling retail to your clients may not be a priority to you, but it can make all the difference in the economic picture of your business. Some Estheticians shy away from selling retail to their clients because it can seem pushy…however, it provides your clients with a valuable service. Recognizing the client's needs and preferences of their skincare regimen lays a foundation of trust by helping them reach their skin goals.
Do you know there is one thing EVERYONE will buy?
T-R-A-N-S-F-O-R-M-A-T-I-O-N
Everyone is interested in using things that help them become better versions of themselves. It doesn't matter what product it is - people buy things that will help them solve a problem and evolve to a higher status.
So, why is selling retail so important?
As many of you have found out during the mandatory closures of spas and other businesses due to the coronavirus pandemic, your business is completely shut down unless you're selling retail. Also, your clients won't get the best results from just their visits to your spa! If they are not using quality, professional products, they are undoing the hard work you do during treatments. And honestly, they will blame you if they aren't seeing results and will probably not come back.
OK, OK, I GET IT - NOW HOW DO I DO IT?
There are thousands of 'how to' sell' books and training out there, but we think one of the most important parts of being successful at selling retail happens before you say a word to the purchaser…
It starts with understanding what problems you can help manage or solve for your clients.
Every person that comes to see you has a problem they want to resolve. Your first job is to understand CLEARLY what THEY think the problem is…if you don't understand the problem the way they see it, you miss the first step in establishing trust with your client. It's easy for us to see many things that you can make better for them, but it is OVERWHELMING if you dump all of it on them at once.
We are all acutely aware of our own flaws and they are bigger to us than they are to other people. But, if you point them out without a plan to make things better, it only makes them bigger in your client's mind and they may begin to associate YOU with their flaws! We tend to think our job it to point out everything we see that is wrong with someone's skin, but it usually comes across as harsh and very negative.
BE THE ASSURANCE THEY CAN'T FIND WITHIN! Be associated with HOPE! Be the person that will help THEM achieve the skin they want to see in the mirror! Be the guide for them…take a long-term approach and don't try to fix everything at once. Your clients are looking to you for answers, and if you approach it with ease and confidence, your clients will also be at ease.
AN EASY WAY TO REMEMBER THIS IS TO SHOW EMPATHY TOWARDS THEIR PROBLEM, AND BE BOLD WITH YOUR RECOMMENDATIONS!
CLEARLY DEFINE THE PROBLEM.
This starts with the first interaction - the intake and consultation, including virtual consultations. You must have thorough understanding of any and everything that could be causing the skin condition, so make sure your intake forms and questionnaire covers all medical conditions, treatment history, family history, medications, etc. Have them bring their entire skincare regimen with them to their first appointment or virtual meeting! They may have ingredients that are causing a reaction or inflammation in the skin. Be thorough and clear so your treatments aren't just stabs in the dark.
INVITE THEM INTO THE PROCESS.
Inviting your client into the process looks like taking before & after photos, listening to their concerns and asking questions to get to the root of the issues, showing empathy & getting real with them about your own skin struggles.
Their skin condition didn't happen overnight, and is probably not caused by just one thing. Explain that it takes time to see results - they may have had these skin conditions for a while, even if they haven't been able to see them visibly. Taking a photo after every treatment will show them their progress & keep them excited about the work you are doing together, including what they are doing at home with their regular skincare regimen.
DON'T PROMISE MAGIC.
Do NOT say you can solve or correct a skin condition. Instead, say things like 'I am here to help you manage your acne/hyperpigmentation/etc.' Most skin conditions are not completely solvable, and if you say you can solve it, you're setting everyone up for BIG disappointment.
BE INTENTIONAL ABOUT WHAT YOU TALK ABOUT DURING A TREATMENT.
It's very easy to get distracted and talk about things like the weather, family issues, tv shows, etc…but the treatment room is the PERFECT place to talk about products. You don't have to do it directly - you can talk about their skin and how it makes them feel. During the shutdown while we aren't seeing clients in the spas, you can be intentional with your virtual interactions on social media, like doing an Instagram Live on a certain skin condition and how to treat it with the products you are retailing. Emphasize the merits behind using professional products, as opposed to generic store brands.
DON'T OVERSELL.
Meaning once you have them committed to the products, STOP TALKING. Connect the products with results, not the price…people will buy transformation regardless of cost. Most people want to leave the skin expertise to you and have you tell them what to use and when to use it. End of discussion. Simply praise the client for making the purchase and assure them they will be happy with it. *Keep records of what they have purchased so you know when they should run out and you can evaluate how the products are working for them. This is also the PERFECT time to book their next appointment, if they haven't booked out with you already!*
Now, here comes one of the MOST important things when it comes to selling retail…
THE FOLLOW UP.
Connect with your client about 5 days after their appointment and see how things are going and answer any questions they may have about their skin, post procedure care, or skincare regimen. This personal touch will do wonders for your relationship with your client and they will most likely give a good review online and talk to friends and family about how you went the extra mile and really show you care.
WITH A CLEAN AND WELL-LIT RETAIL SPACE, YOU ARE APPEALING TO THE BUYERS - YOUR CLIENTS. BE HONEST AND SINCERE IN YOUR ADVICE AND DON'T UNDERESTIMATE THE CLIENT…THEY WANT TO TRANSFORMED THEMSELVES AND ARE LOOKING TO YOU TO HELP GUIDE THEM TO THE BEST VERSION THEY CAN BE!